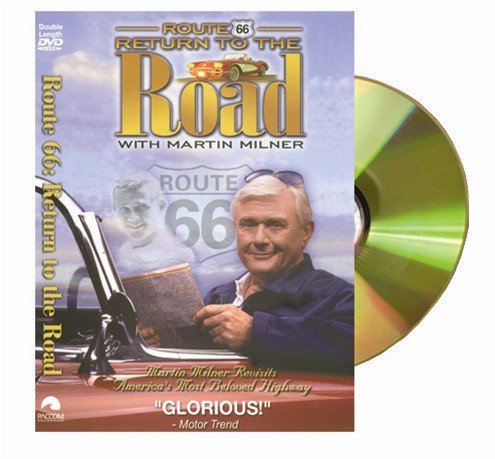 Route 66: Return to the Road
CLICK ABOVE TO PURCHASE THE DVD OR CLICK BELOW TO STREAM ONLINE
They called it "The Main Street of America." When Martin Milner starred in the television series

Route 66

, U.S. Highway 66 was the busiest and most famous road in the Unites States.

Thirty years later, Martin Milner (

Route 66, Adam-12

) hosts this heartwarming return to what remains of Route 66. It's an incredible 2,400 mile trip that winds its way through eight states, hundreds of small towns, and a cast of characters too outlandish and charming to have been made up. These are the real-life people of the highway. In dozens of candid interviews they form a riveting portrait of roadside America and its struggle against the 'franchise blight'.

International award-winning double-length collector's set. Martin Milner, in a 1960 Corvette, returns to "The Mother Road" and profiles her people like never before.

Return to the Road

takes you back to the America of another time... When diners, drive-in movies, and greasy spoons did booming business along the shoulders of two lane highways.
---
Share this Product