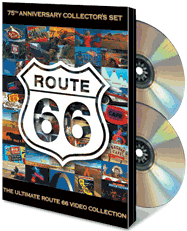 Route 66: 75th Anniversary Collector's DVD
This Collectors Set Contains 4 titles:
Route 66: Return to the Road
Route 66: An American Odyssey, Drive 66
Drive 66: The guide to taking a trip
Greetings From Route 66: A Video Postcard
Route 66 : Return to the Road
Thirty years after starring in the CBS TV show "Route 66", Martin Milner returns to the road for a heartwarming journey through eight states, hundreds of small towns, and a cast of charming, outlandish characters. Candid interviews witht he people of the highway form a riveting portrait of roadside America.



Drive 66: The Guide to taking a Trip


This [revised] video guide to planning your own trip on Route 66. A complete state-by-state tour of the famous sites and little known attractions, plus inside trips from Route 66 experts.



Route 66: An American Odyssey


The classic history of Route 66. From the building of the road, to today's renaissance, it's the heartfelt story of the legendary highway. Packed with nostalgic scenes and rare archival footage, it's an unforgettable trip to the America of yesterday.
---
Share this Product